Series 13 of Doctor Who introduced Celia Imrie as the Sixteenth Doctor, Tom Felton as Alec O'Conor and Imogen Poots as Constance O'Conor.
The series opened with A Masterful Reckoning and concluded with Master of Worlds. It was followed by both a Halloween Special, Disappearing Act and a Christmas Special, The Three Masters.
Overview
The series consisted of twelve stories and fifteen episodes. It was Celia Imrie's first full series as the Sixteenth Doctor and introduced new companions Tom Felton as Alec O'Conor and Imogen Poots as Constance O'Conor in the premiere, A Masterful Reckoning. Callum Turner took over as the head showrunner.
Everything from A Masterful Reckoning to The Three Masters was part of the Series 13 production block.
Cast
Recurring
Guest
Television Series
Regular Series
Halloween Special
Story

Number

Title
Writer
Director
Notes
139
Disappearing Act
Callum Turner
Lee Haven Jones
Last appearance of Alec and Constance.
Christmas Special
Aliens and Enemies
Adaptations and Merchandising
Home Media
DVD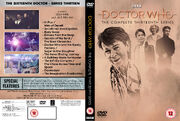 All episodes of Series 13 were released in boxset form by BBC Studios. The set contained special features such as; Doctor Who Confidential, cast and crew interviews, episode commentary, behind the scenes look, series trailers and teasers, image gallery, deleted scenes and special feature - The Art of Who with Tom Felton.
Blu-Ray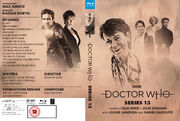 The series was also released as a complete blu-ray season release, with additional bonus features not included on the DVD release, such as; extended Doctor Who Confidential, video diaries and PDF files of scripts and production. A follow-up Collection set was released as well, containing additional features such as; Behind the Sofa and series production documentaries.